Industrial Painting and Sandblasting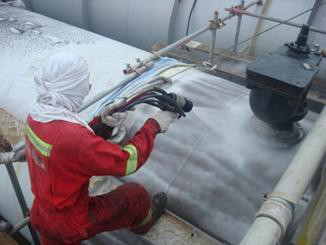 An industry leader since 1989, Commercial Sand Blasting & Painting is recognized throughout Dubai for superior corrosion protection services. Committed to safety, quality and customer service, our journeymen and apprentice tradesmen are continually upgrading their knowledge of new coating technologies, application processes, and safety procedures.From small jobs to large-scale contracts, we take pride in our workmanship and continually strive to surpass customer expectations. That's what makes us an industry leader… You can depend on us for the best!
Whether your job is big or small, we have the knowledge and materials required to do it correctly, safely, and economically. Call us today
Our Industrial Painting and Sandblasting service include the following
Abrades surfaces of metal or hard-composition objects to remove adhering scale, sand, paint, grease, tar, rust, and dirt, and to impart specified finish, using abrasive-blasting equipment
Shovels or pours abrasives, such as sand, grit, or shot of specified grade into machine hopper.
Masks specified areas of object to protect from abrading action. Loads parts on racks in enclosed rooms, into tumbling barrels, or into cabinets.
Turns valves on equipment to regulate pressure and composition of abrasive mixture flowing through nozzle or into tumbling barrel.
Starts equipment that directs blast or flow of abrasive-laden compressed air, gas, or liquid over surface of parts.
Manually directs nozzle over surface of large parts or inserts arms through glove-fitted cabinet openings and manipulates small parts under nozzle for specified interval.
May examine finished parts to ensure conformance to specifications. May be designated by type of equipment or abrasive used as Cabinet-Abrasive Sandblaster (any industry); Shotblaster (any industry)
We specialize in the oil and gas, commercial, and industrial products and offer a full range of field services.
Abrasive blasting
Wet blasting or dry
Power washing
Concrete coating
Surface preparation
Fire proofing
Corrosion prevention
Industrial coatings
Specialized tanks and vessels linings
Graffiti removal
Pipeline linings
Pipeline Maintenance
Lead Abatment
Plural component applications
Corrocote linings
Equipment restoration
Specialty coatings
Our expert staff works closely with you to determine which types of blasting media, paints, primers, and coatings will be optimal for the job and yield the best results. Whether you need to sandblast and coat a structure, degrease equipment, or remove stains from concrete floors, we have the solutions – and will bring them to your door.
---
View or download Prequalification doccuments to learn more about us