Industrial Epoxy Floorings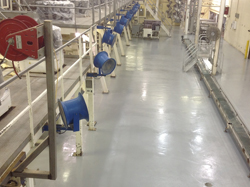 Commercial and Industrial premises are now choosing 2 pack EPOXY floors over their old untreated concrete floors and previously sealed/painted concrete floors. The main reasons are the ease of maintenance, chemical resistance, safety, hygiene, moisture blocking and appearance.
In many warehouses, quality control depends on strict standards of cleanliness. Concrete dust can make meeting these standards almost impossible, as concrete dust is considered to be very harmful to health. Your existing floors can be repaired and then coated using premium industrial grade 2 pack epoxy to dust and oil-proof the floor, making any cleanup a breathe.
Our Floor Coatings have superior resistance to forklift and pedestrian traffic, acids and alkali spills. Your floors can be done in semi-gloss, high gloss or in anti-slip finish and in a variety of colours (356 to choose from), allowing you to match your new floors to the rest of the environment.
Concrete Floor Preparation
We will find the most efficient solution/s to your floor coating requirements. We will always discuss with you all the options available.
The key to any successful floor system installation is a proper surface preparation. We utilise the most advanced line of preparation equipment available to the industry and constantly training to keep current with the newest and most up-to-date products and methods that are released onto the Australian market. Our tradesmen are trained in the use of captive shot-blasting, scarification, concrete diamond grinding & polishing, floor topping removal and professional application of 2 pack Epoxy.
Advantages
Durable
USDA compliant
Seamless
Easy to clean
Chemical resistant
UV, heat, and skin resistant systems
Available in water- based & 100% solid
Low to Zero VOC
---
View or download Prequalification doccuments to learn more about us