Self Leveling Epoxy Floorings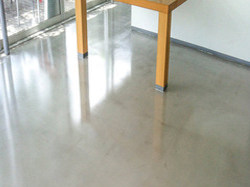 Self leveling epoxy is a type of epoxy floor coating that can be applied over concrete floors to create a durable, low maintenance flooring surface. Specifically, self leveling epoxy flooring can be applied over old cracked and damaged concrete floors to create a smooth, seamless surface. This is because during application the epoxy spreads out to fill cracks or chips in concrete floors.
Self leveling epoxy flooring can be used in a number of applications including commercial, industrial, and residential applications. We recommend our self leveling epoxy flooring for a wide variety of industries and buildings including in:
Manufacturing Facilities
Warehouses
Showrooms
Commercial Garages
Commercial Kitchens
Hospitals
Aircraft Hangars
Athletic Flooring
Self Level Flooring service offered by us are based on polymer modified formula which provides assistance towards successfully developing high adhesive strength on well laid/prepared sub-flooring. Further, requiring no special skills, use of tools/additives, these can be easily installed in any thickness in one lift as well as can be used on wood, concrete, steel or polystyrene foam.
Further, these are also highly resistant to:
Acids
Abrasion
Alkalis
Solvents
Fuels
Other corrosive materials
---
View or download Prequalification doccuments to learn more about us