Terrazzo Flooring Specialists – MIDDLE EAST & INDIA
Specializes in the Installation, Restoration and Maintenance of all types of Terrazzo flooring to clients throughout the QATAR and INDIA
Specializes in the Installation, Restoration and Maintenance of all types of Terrazzo flooring to clients throughout the QATAR and INDIA
The business was started 2011, but NEWMOON QATAR over 11 years' experience with Terrazzo Flooring. Our expertise and first-rate service are renowned, which allows us to offer premium quality, unlimited flexibility, excellent value for money and decades of reliable service.
We have worked successfully with many clients, from commercial to industrial, construction firms to smaller companies and private clients.
You can be assured that South Derry Flooring, with its wealth of experience, is one of the very best terrazzo experts in the business.
NEWMOON Flooring Systems is committed to safe working practices and all site operatives and supervisory management hold QCS qualifications. Our site supervisors hold SSSTS (Site Supervisor Safety Training) qualifications and our site management team hold SMSTS (Site Management Safety Training Scheme) qualifications.
This demonstrates a benchmark safety record, giving clients the reassurance that Health and Safety is a priority at NEWMOON Flooring Systems.
We adopt a non-adversarial attitude in everything we do which is reflected in the substantial amount of repeat business we carry out.

Terrazzo flooring has been popular for several years, and it is still in trend today.
What Is Terrazzo Flooring?
Terrazzo is a durable and versatile flooring option. Unlike other flooring materials terrazzo is a mix of marble, granite, quartz and other materials. All chips are poured into a cement binder and what comes out is a beautiful flooring option that can last for years.
NEWMOON QATAR Installing terrazzo floors in your home or shopping mall or can provide you with a very beautiful decor. While it can be great with the right application, it is not without its drawbacks as well. Here are a few pros and cons of terrazzo floors.
Overview of Terrazzo
Today's terrazzo is made with either Portland cement or epoxy for the base, and then applied with a variety of aggregate, such as recycled glass or marble chips, to give off a speckled appearance. As of late, terrazzo has seen a resurgence in the architectural and design communities because it offers many great qualities in form and function. Terrazzo can create any design, giving designers the option to pick any color or decide to include an intricate logo design or pattern if they wish. Even today, terrazzo is expanding in its use. Going beyond flooring, terrazzo today is being transformed into useful household products and can be used as countertops and walls.
Terrazzo has a lasting impact on everyone. With zero VOC content, the material is quite "green" and offers architects opportunity to quality for LEED. The most important fact about terrazzo though is that it is the most cost-effective flooring option over the life span of the floor due to the floor's durability and low maintenance costs.
Terrazzo can be used in any project, but mostly can be seen in schools, hospitals, government buildings and corporate offices.
Terrazzo Floor Advantages
Beauty Terrazzo floors will give you a unique, beautiful floor. The look that terrazzo offers is unlike any other type of floor. Terrazzo contains within it chips of marble, stone, or glass. With this mixture, manufacturers can make a completely customized design for you anywhere in the floor. While it may share some characteristics of other types of floors, it really has a unique look of its own.
Durability Terrazzo flooring is one of the most durable flooring options that you could get. It is reinforced with concrete and has bits of stone, marble, or glass in it. Therefore, it can hold up to a lot of usage over a long period of time and still look like new. When you compare it to the durability of many other types of flooring, such as carpet, there is simply no comparison. You can put it in high-traffic areas and never notice a difference.
Ease of Cleaning It is very difficult to stain terrazzo with anything. It does not absorb liquids very easily; therefore, you can clean it easily with a wet mop and a variety of cleaners. This gives you one of the easiest to maintain flooring options on the market today. High-end look Terrazzo is well known in the luxury housing markets. Many high-end lofts and contemporary settings use terrazzo floors throughout.
Terrazzo is both light and strong. This makes large-scale installations easier, but also cost-effective when you look at the lifetime value. Terrazzo installation costs may be high, but their maintenance and repair costs are minimal.
One of the best reasons to add a terrazzo floor is to add a lot of style and flare to a room. Since terrazzo floors are not very common, they add to the value of a home as well. Although terrazzo floors can be expensive, homeowners do not have to worry about replacing them for a long time. This is because, when properly installed, a terrazzo floor is extremely durable. Expect these floors to last for decades, if not centuries.
Due to the sealer that is placed on top, these floors are waterproof and require very little maintenance. This is why some people choose terrazzo for their pool decks as well. Last but no least, terrazzo floors are very green. A lot of places make terrazzo flooring out of recycled materials. For example, recycled glass is often one of the key ingredients in a terrazzo floor.

What are the Differences Between Cementitious and Epoxy Terrazzo
Terrazzo is the trend that is standing the test of time. With flexibility in terms of design and application, this flooring solution has been chosen in a wide variety of commercial and residential spaces to create striking visuals. Covering a limitless array of colors and textures, thanks to the many aggregates available today, terrazzo is being used as much now as it was years ago to create glamorous and truly unique aesthetics.
After deliberating over the many flooring options and deciding that terrazzo is for you – make sure that you are completely clear about which type will suit your space the best.
Terrazzo flooring has traditionally consisted of marble or granite chips set in concrete and polished down to a smooth surface, creating a decoratively patterned finish of small, interspersed coloured flakes.
However, with a new trend we see new technologies, and today resin systems are revolutionizing the design, installation and use of terrazzo surfaces. Thanks to the versatility of this seamless resin flooring, it provides the designers of large commercial facilities with the opportunity to think of the floor area as one considerable canvas on which they can create bespoke works of art.
Using an epoxy or polyurethane based system instead of concrete makes it easy to pour blocks of coloured resin into any desired pattern. Metal bands are used to mark out the pattern's different sections and once the last colour has been added in, the floor area is then repeatedly ground down, sealed and polished to create a smooth and glossy finish.
With these two main options to consider, epoxy-based terrazzo and cementitious terrazzo, what is the difference?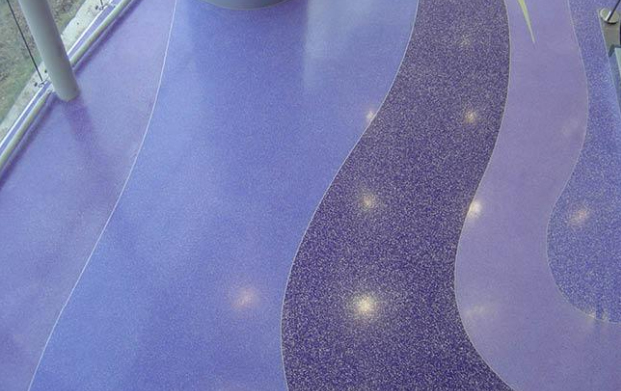 Epoxy Terrazzo
The main benefits of the resin system are greater design flexibility and speed of application.
Using an epoxy matrix to bind aggregates allows for an incredibly thin set system that consists of colour and shimmering pieces of glass, marble or granite to create a smooth and luxurious floor finish. Made from a two-component resin system that bonds directly to the concrete substrate, this is also an extremely light flooring solution.
Given the right ambient conditions, this system can cure overnight and be ready to polish the next day, permitting a faster project turnaround. This speed of application is ideal for busy shopping centers for example, as the new flooring can be installed during the normal closed times of the building.
Whilst colorful and intricate patterns can be created inside with this epoxy terrazzo, it is not suited to outdoor applications thanks to it being incapable of absorbing water.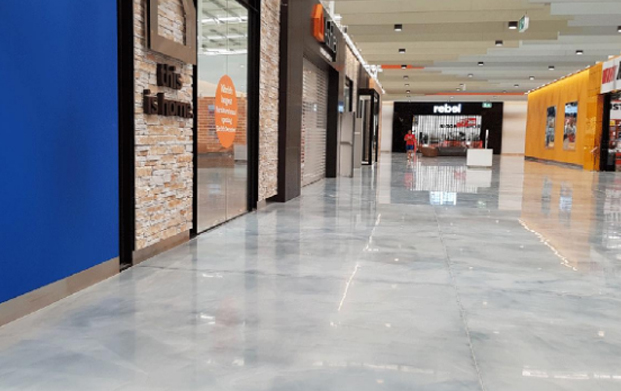 Cementitious Terrazzo
Some cement terrazzo is much more suitable for more challenging areas, exterior applications and renovation projects where there is no active vapor barrier beneath the substrate.
Cement terrazzo uses a cement matrix and describes multiple terrazzo systems, including sand cushion, bonded, rustic, monolithic and polyacrylate systems. Using a cement-based mix with the incorporated aggregates, this system is often thicker and heavier than epoxy alternatives. This thick, robust nature means that it is better at withstanding impacts, steam cleaning, heavy traffic and point loading.
Taking up to seven days to cure before polishing can commence, the application area will have to remain free from traffic until that time. For businesses, this could mean upheaval and loss of normal revenue due to closure.
Although there are not as many colour options for cementitious terrazzo as there are for resin systems, wonderful earthy tones can be created with this option.
To highlight the main differences between the two options, see the table below.
| | | |
| --- | --- | --- |
| Type | Epoxy Resin Terrazzo Flooring | Cementitious Terrazzo Flooring |
| Colour Options | Offers bright and complete colour customization | Slightly more limited colour options |
| Thickness | Maximum thickness of 6-8mm possible | Thicker and heavier system |
| Application Area | Good for internal applications | Good for internal and external installations |
| Moisture Tolerance | Few concerns on moisture vapor transmission | Good at handling moisture vapor transmission |
| Finish | High level glossiness possible | Low level of gloss finish can be achieved |
| Curing | Fast curing | Longer duration to cure |
If you would like more information on using terrazzo for your facility, please leave a comment below and we will get back to you.
Differences Between Terrazzo and Polished Concrete
One of the biggest differences between terrazzo and polished concrete will be the cement-to-aggregate ratio. Polished concrete will contain more cement whereas terrazzo will contain more aggregate. For example, cementitious terrazzo requires a minimum of 70 percent marble-chip material and 30 percent cement matrix. On the other hand, polished concrete will have around 30 percent aggregate and 70 percent cement matrix.
Polished concrete originated out of terrazzo and polishing technology, but mostly relies on chemical dyes and densifiers. Terrazzo was formed in the 15th century when Venetian mosaic workers used marble scraps to create flooring for their terraces. Another difference involves polishing. Polished concrete involves polishing the slab itself. In contrast, terrazzo involves covering the concrete slab with epoxy and aggregate, and then grind and polished to a finish.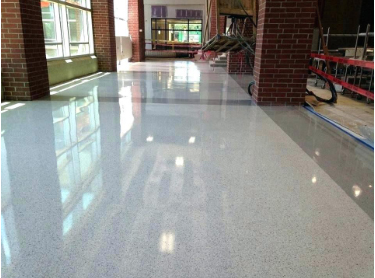 Overview of Polished Concrete
With either a new pour or an existing slab, polished concrete is highly polished to provide a highly durable and maintenance-free surface. Polished concrete can be optionally dyed to create a beautifully designed floor. Polished concrete is one of the most slip-resistant floors in the flooring market. In addition, polished concrete reflects well with day lights, which can help reduce electricity costs.
Like terrazzo, polished concrete can contribute to LEED points. There are no VOCs, making it an environmentally friendly product.
Polished concrete is commonly seen in warehouses, garages, commercial gyms, hospitals and restaurants.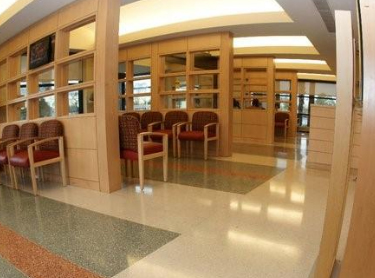 ---
View or download Prequalification doccuments to learn more about us